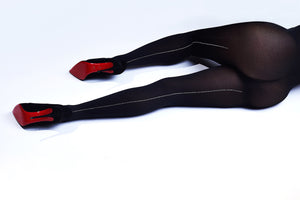 Black opaque hosiery with crystal backseam, embellished by d.bleu.dazzled. 90% Nylon, 10% Spandex.
Please Note: Standard crystal placement is from ankle to the tops of thighs. We offer full coverage tights with a crystal seam to the waist on the front and back for +$15. Please choose "Full Coverage" for this option.
SIZE OPTIONS:
Petite fits most up to 125 lbs 
One size fits most up to 165 lbs
Plus fits most up to 275 lbs
Please allow 1-2 weeks for turnaround time.